Golf tuition days are great for helping clients improve their skills and they can even be structured to give non-golfers their first experience playing the game. Morning tuition is followed by an afternoon competition (a different one for the beginners) - the beauty of this type of day is that everyone will, one way or another, benefit greatly from your hospitality.
Overseas golf weeks can be organised on a similar basis, and I have good contacts at some fantastic venues throughout Europe having run tournaments and tuition weeks in both France and Italy. These events can even be blended in with company conferences, and Personal Golf's travel partner 'Golf Par Excellence' are specialists in organising such events. www.golfparexcellence.com
No corporate golf day is too big or too small and I have taken events to The 'K' Club, Kingsbarns and Celtic Manor as well as some real hidden gems in various parts of the UK.
Charity golf events are also popular and I have run charity Pro Am's for the film industry since the late 90's.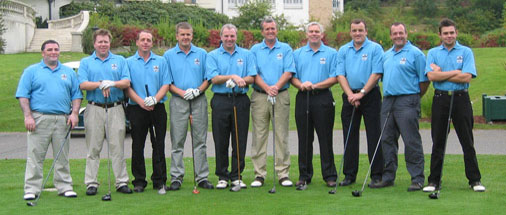 " Lee's experience and contacts in the golf business mean that he is always able to provide clients with their perfect golf event. Over the last ten years Lee has been sourcing great venues and delivering days for us with the attention to detail Mercedes-Benz demand."
Stephen Hanifan, Corporate Sales Manager, Mercedes-Benz Retail.
In addition to providing corporate clients and guests with a great event, I can also provide a range of quality logod merchandise. All goods are carefully sourced through a number of golf's leading companies and prices are very competitive.
So, if you would like some help with your existing golf day or are not sure how to get the most out of a new personal golf event, all you have to do is give me the key details and I will do the rest.